Sotiris Aspragkathos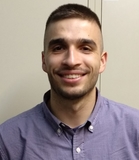 Research Interests:
My main research interests involve automatic control and robotics. More specifically, my research philosophy lies in the investigation of the the issue of the cooperative control of multiple robotic manipulators. We relate to interactions through both combined motion and physical contact. Both are important research areas as robots are increasingly entering industry, services and everyday life. Particularly in field actions, there is a growing need for robots to share a common workplace, interact and collaborate. Issues such as cooperative transport and object manipulation through multiple robotic arms are also to be considered in the light of the combination of the power of robotic systems and the manageability of the objects being handled.
Contact Details:
Email: saspragkathos [AT] mail [DOT] ntua [DOT] gr
Phone: (+30) 210-7723656
Office: Dept. of Mechanical Engineering, Building M, Basement
Website: www.controlsystemslab.gr/main/members/sotiris-aspragkathos
Work Experience:
12/2018 – present
National Technical University of Athens,
School of Mechanical Engineering,
Department of Mechanical Design and Automatic Control
Visiting Research Fellow
Advisor: Prof. Kostas J. Kyriakopoulos
Tasks: Training in Nonlinear Control and Motion Planning problems. Subsidiary participation in the integration of European research projects.
10/2018 – 12/2018
Laboratory of Mechatronics, Dipartmento di Ingeneria
Elettrica Gestionale e Meccanica, Università degli Studi di Udine,
Udine, Italy
Visiting Research Fellow
Supervisor: Prof. Alessandro Gasparetto
Tasks: Robotics testing, vibration control based on model identification.
11/2017 – 08/2018
Technical Department of Support Division at Hellenic Army, 9th Mechanised Infantry Brigade, Kozani, Greece (compulsory service)
Technician Scribe
Tasks:
• Human resource management.
• Βureaucratic management.
• Tracking and repair of military vehicles (Oshkosh, Steyr, Tatra & Mercedes-Benz G-Class) and reinforcement (HK G3A3/G3A4 & HK11A1).
07/2016 – 09/2016
Field of Amyntaio, Lignite Center of Western Macedonia, PPC's Mining Division, Amyntaio, Greece
Internship as Apprentice Mechanical Engineer
Tasks:
• Repair of mechanical equipment of excavators or depositors in the workshop (gearboxes, axles and
drum motor for conveyor belts).
• Repair of electrical equipment of excavators or depositors (damages of medium and high voltage).
• Programming, attendance and participation of troubleshooting tasks pausing the function of an excavator or depositor (damaged gearboxes, cracked drum motors or conveyor belts).
• Planning attendance and participation of maintenance work on excavator or depositor equipment
(maintenance of excavator reducer and maintenance of excavator overhang).
Education:
04/2019 – present
National Technical University of Athens,
School of Mechanical Engineering,
Department of Mechanical Design and Automatic Control
Doctor of Philosophy (PhD) in Mechanical Engineering Thesis: "Cooperative Control of Mobile Manipulators"
Supervisor: Prof. Kostas J. Kyriakopoulos
09/2012 – 11/2017
University of Patras
Mechanical & Aeronautical Engineering Department (MEAD)
Diploma in Mechanical Engineering & Thesis: "Development of robot-controllers for the vibration control of flexible beams based on stochastic time series models in a synthetic environment – Comparative study"
Supervisor: Ass. Prof. John Sakellariou
Co-Supervisor: Prof. Nikolaos A. Aspragkathos